Welcome to MassiveGrass.com, your hub for all things Massive Grass!  Check out our show dates and preview our music and videos.  There are buttons linking to our Facebook, Reverbnation, and Twitter pages on every page of the website. You can even buy both of our albums, 'Five Years' and 'Untethered'!  Feel free to email us on the contact page and don't forget to sign up for our email list!   Thanks for looking around! - Massive Grass


Check out the latest Massive Grass news below, as well as, our Twitter stream!
Encore Magazine was nice enough to write an Article on our Thalian Hall show!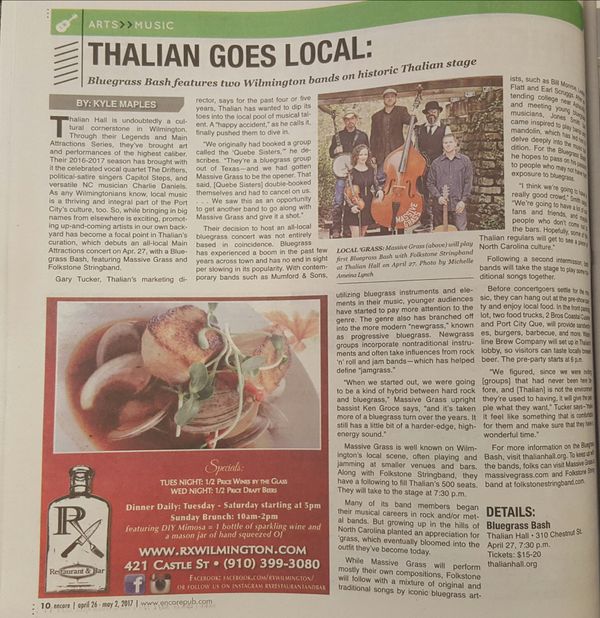 Check out our video submission to the NPR Tiny Desk Contest! 
We are excited to announce that we have added a new member to the band!  Abigail Albaugh has been playing with us for the past few months.  She is classically trained on violin, but is also very good on bluegrass 'fiddle' as well.  She really adds a lot to our sound and we are stoked to have her join us!  Come out to a show and welcome her to the Massive Grass family!
Check out our latest video!  This is our cover of I Ran(So far Away) by A Flock Of Seagulls.  Filmed in Carolina Beach, NC with a flock of seagulls.